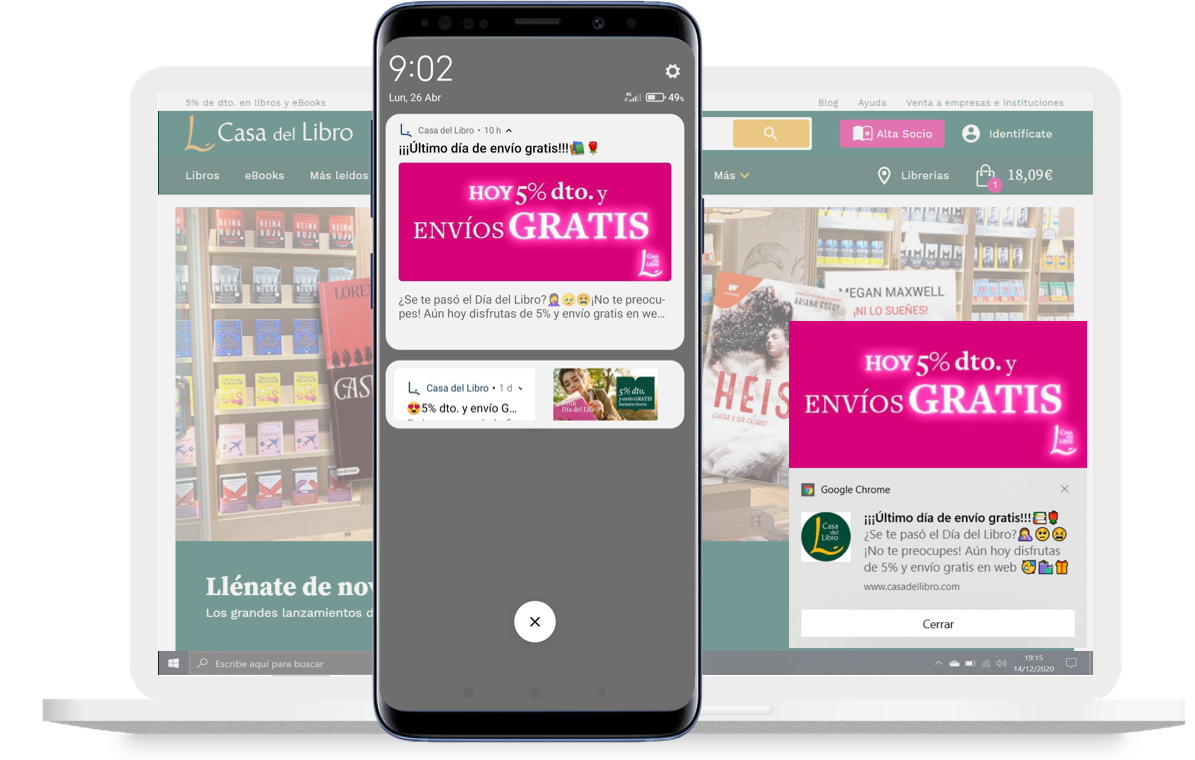 How are users notified about new offers, best-selling or best-selling products, items that are trending and those whims that we were looking for and are no longer in stock? Also, how can experiences be personalized and communication relevant according to user preferences?
Surely it does not surprise you that an e-Commerce leader like Casa del Libro offers this type of experience to its users. Although being a leading company in literary distribution, in the current situation, it is not enough: you must look for systems to continue being relevant to your consumers.

To achieve this, Casa del Libro has decided to enhance its omnichannel approach and draw up a strategy with indigitall in which web notifications and push app play a leading role. In this way, it responds to the needs of users, offering them better usability and comfort while browsing their favorite channels.
How do you use web and app push notifications?
Working together with indigitall, Casa del Libro, faced one of the main challenges your business is going to face today: being relevant to your audience despite the passage of time.
If you think about the frenetic pace with which brands launch impacts, it is difficult to keep up, while drawing attention to the rest. Casa del Libro has used the power of the indigitall console and the push notification channel as a system that will allow it to develop precise tactical actions in an omnichannel way, reaching the preferred platforms of its users: with web notifications and push app.
Among many functionalities, Casa del Libro detected that thanks to the segmentation in audiences collected through the navigation of users on its website or mobile application, it was more efficient for them to send their messages in a segmented way, increasing the% CTR and the value contributed to its users. In this way they can communicate directly with specific demographics through personalized and rich messages on their smartphone, tablet or PC.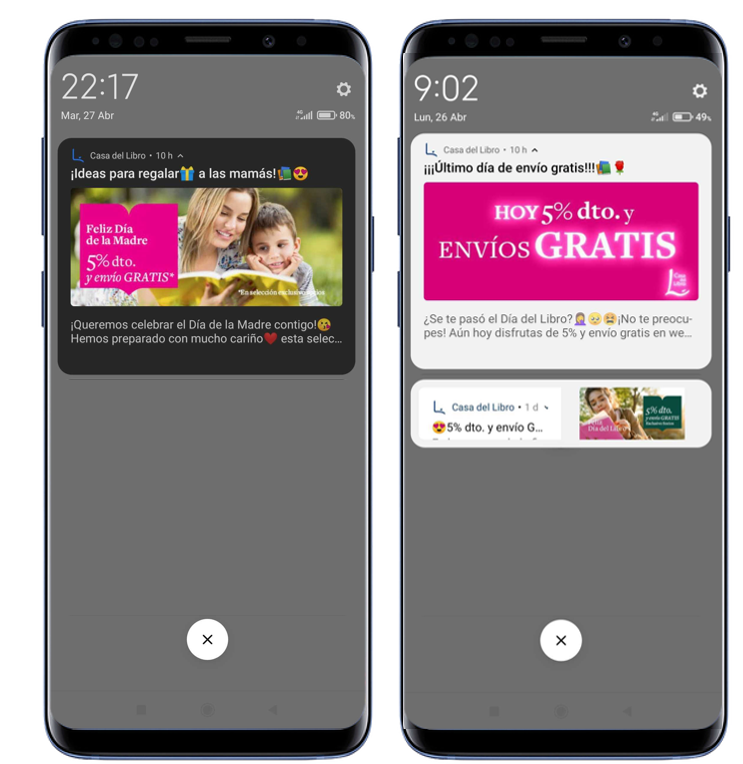 Connect a new channel in your CRM
Who would not like to have the opportunity to do marketing campaigns adapted to the decision moment or Customer Journey in which customers are? Wouldn't you love to have a tool with which to detect consumer doubts in order to resolve them? From indigitall we have helped to integrate the push notification channel with the CRM data, being able to design very precise strategies.
Casa del Libro has done just that, connecting the notification orchestrator with its Salesforce Marketing Cloud software. Thus, crossing the data, they can carry out communication campaigns in which, knowing their users better, their activations / actions are optimized, and they have their own and third-party data sources to obtain a 360-degree view of all their customers.
Notifications for retargeting
There are several reasons that cause a user to browse your website, show interest in certain products ... And, in the end, do not buy them. Can you imagine having the ability to re-fish him? With a retargeting campaign using push notifications it is possible. It allows you to be proactive and communicate with him as a seller would in a physical store, directly impacting his smartphone, PC or Tablet, reminding him that he left a product pending, and that it is still available for him to complete the purchase.
An example of this is the retargeting that we see on the web and the Casa de Libro App. If you leave your favorite book in the abandoned cart, and you forget to finish the purchase, they will send you a message reminding you of your pending purchase or show you alternatives to the books you have shown interest in.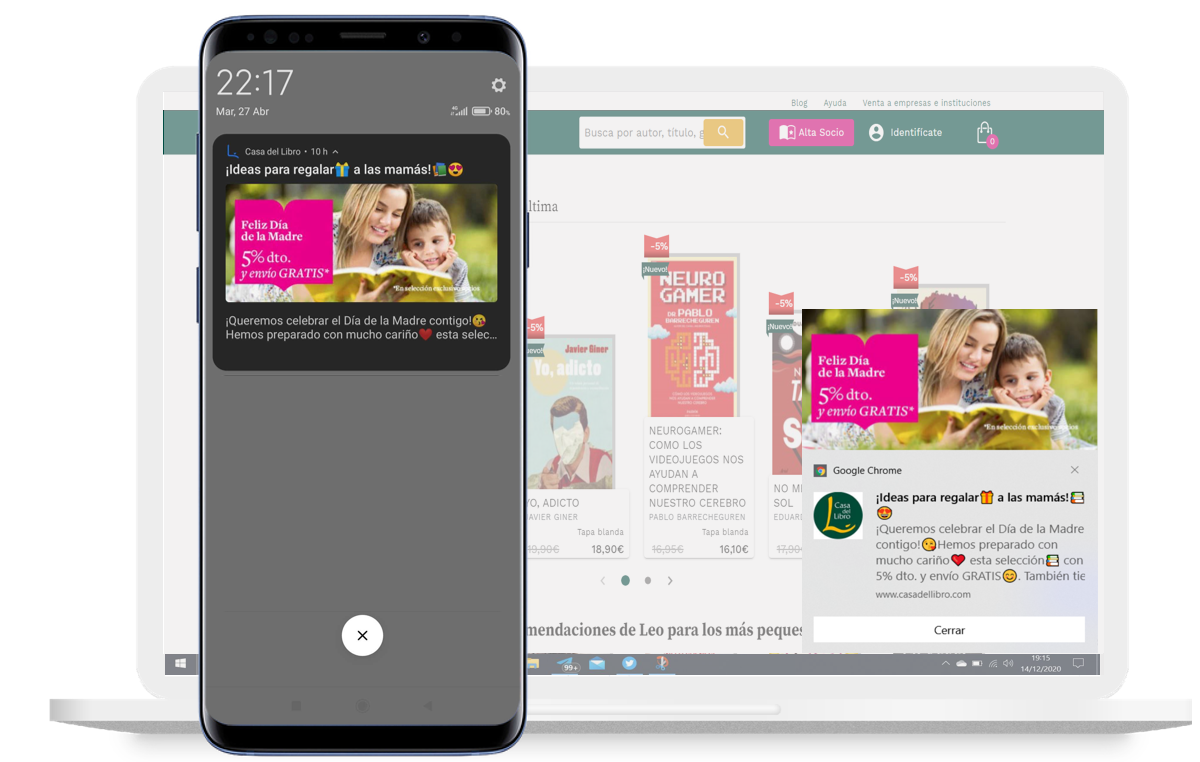 How Casa del Libro uses personalized experiences to increase its average basket with indigitall
From your online store it is difficult to offer a personalized service. But, by replicating Casa del Libro's strategy, you will be able to communicate with users directly through tailored notifications. Our functionalities allow you to send them animated images, segment according to the profile of the navigators, geolocate and create interactive messages. All this from an executive dashboard and with the support of AI.
The use of push app notifications at Casa del Libro is a success story within its customer relationship strategy as it allows you to communicate and engage with your audience in a relevant way and at the same time engage with the customer directly. If you want to replicate strategies like this, follow us on LinkedIn. We will keep you up to date!
Topics: Push Notifications, Uses Cases